Details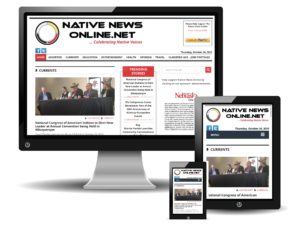 Now entering its 10th year of publication, Native News Online delivers important daily news that affects the lives of Native Americans nationwide. Founded in 2011, Native News Online reaches millions of Native and non-Native readers annually including American Indians, Alaska Natives and others interested in American Indian concerns—this is your direct link to that demographic.
Interested in Advertising?
CLICK HERE FOR OUR 2022 MEDIA KIT
MEDIA ASSETS – Native News Online is a leading digital publisher that uses Web, enewsletter and social media platforms to reach millions of American Indians, Alaska Natives and other non-Native readers nationwide.
WEBSITE – 12 MONTHS ENDED 6/30/2020
-4.5 million page views +27.4% vs. prior year
-2.9 million users +31.1% vs. prior year
-3.9 million sessions – +31.9% vs. prior year
E-NEWSLETTERS 2020 STATS
-3,418 subscribers
SOCIAL MEDIA FOLLOWERS
-Twitter – 61,800
-Facebook – 394,083
To be emailed a media kit with detailed reader information, advertising and sponsored content options, contact Rich Tupica @ 616-608-6170 or email: [email protected]