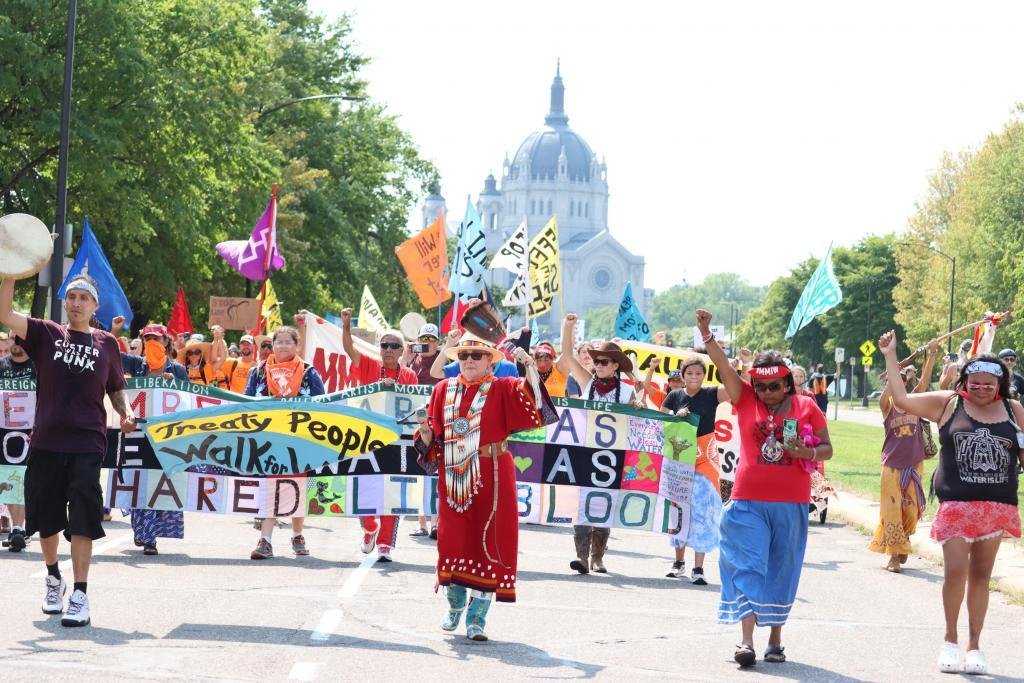 Details

By

Darren Thompson
SAINT PAUL, Minn. — On Wednesday, more than 1,000 people led by Indigenous leaders convened at the Minnesota State Capitol grounds in Saint Paul to oppose the ongoing construction of Enbridge's Line 3 tar sands oil pipeline in northern Minnesota.
For hundreds of demonstrators, their arrival at the state Capitol marked the conclusion of a 235-mile walk that started at the headwaters of the Mississippi River in Backus, Minn. on August 12, 2021.
"I want to extend a big gratitude to all the brothers and sisters who walked so far to bring this message to the Governor (Tim Walz) and to President Joe Biden," said Honor the Earth Co-Director Winona LaDuke (White Earth Ojibwe) in a speech at the Treaties Not Tar Sands Rally. "This pipeline was a bad idea seven years ago, and it's an even worse idea now."
In anticipation of the demonstration, Minnesota State troopers barricaded all roadways into the Capitol grounds. Fearing damage to monuments near the capitol, as when a Christopher Columbus statue was taken down by protesters last summer, all statues were fenced in and guarded by law enforcement.
During a summer that has been plagued with record-breaking temperatures and drought in Minnesota, the subject of climate change was brought up often by speakers at the rally.
"No longer will we be beholden to corporate interests, because the people will rise up," said Red Lake Nation Secretary of State Sam Strong during the rally. "This pipeline's output to the atmosphere will total the combined output of 50 coal power plants."
With the Minnesota Supreme Court on Tuesday denying an appeal to void approvals granted by independent regulators, organizers of the rally hoped they could sway President Biden and Gov, Waltz to stop the construction of the pipeline that crosses waterways in Minnesota at 22 different points along its route. The appeal had been filed by the White Earth Band of Ojibwe, the Red Lake Band of Chippewa, the Sierra Club, and Honor the Earth.
Construction on Line 3 is nearly 90 percent complete in Minnesota, with portions of the pipeline completed in Canada, North Dakota, and Wisconsin. To date, more than 700 people have been arrested or issued citations in their demonstrations against the pipeline construction.
In the evening, demonstrators announced they will occupy the Minnesota Capitol grounds overnight and began pitching tents on the lawn. However, Minnesota State Troopers ordered demonstrators to remove the tents and allowed people to occupy the permitted tipis on the lawn.
The demonstration is anticipated to last several days. No arrests were made.
Enbridge expects the pipeline to be completed and Line 3 to be fully operational before the end of the year.
Deputy Press Secretary for the Office of Governor Tim Walz and Lieutenant Governor Peggy Flanagan did not respond to a request for comment. Flanagan is an enrolled member of the White Earth Band of Ojibwe.
More Stories Like This
Repairs Planned for Dams in Tribal Communities
Santa Clara Pueblo, Santo Domingo Pueblo, and Pueblo of Santa Ana Tribal Leaders Meet with FEMA Deputy Administrator to Discuss Wildfires
Dibaginjigaadeg Anishinaabe Ezhitwaad - A Tribal Climate Adaptation Menu
Reporters Notebook from: Society of Environmental Journalists 2022 Conference, Days Four and Five
There's a New Critical Habitat Designation for Nayiit and Makliit. Will it Keep their Numbers Up?